The Ultimate Guide to Choosing the Perfect Quilted Bedspread
When it comes to creating a cozy and inviting bedroom, one essential element that can't be overlooked is the perfect quilted bedspread. It not only adds warmth and comfort to your sleeping space but also contributes to the overall aesthetics of your bedroom. If you're on a quest to find the ideal quilted bedspread to enhance your bedding experience, you've come to the right place. Welcome to Malako India's ultimate guide, where we'll walk you through everything you need to know about choosing the perfect quilted bedspread.
Why a Quilted Bedspread?
Before we dive into the nitty-gritty of selecting the right quilted bedspread, let's understand why it's a must-have for your bedroom:
1. Comfort and Warmth
Quilted bedspreads are known for their plush and cozy feel. They provide an extra layer of warmth during chilly nights, ensuring a comfortable night's sleep.
2. Style and Elegance
These bedspreads come in a variety of designs, colors, and patterns. They can instantly elevate the aesthetics of your bedroom, adding a touch of elegance and style.
3. Versatility
Quilted bedspreads are incredibly versatile. They can be used as a top layer during colder months or as a decorative element to complement your existing bedding.
Now that you understand the importance of a quilted bedspread let's delve into how to choose the perfect one.
How to Choose the Perfect Quilted Bedspread
1. Size Matters
The first and foremost consideration when selecting a quilted bedspread is the size. Measure your mattress and bed frame to ensure you choose a bedspread that fits perfectly. You don't want it to be too short or too long; it should drape elegantly over the sides of your bed.
2. Material and Comfort
The material of your bedspread greatly affects your comfort. Cotton is a popular choice due to its softness and breathability. For a luxurious feel, consider silk or satin. Keep in mind the climate of your region when choosing the material.
3. Design and Aesthetics
Consider the overall style and color scheme of your bedroom. Choose a quilted bedspread that complements your decor. If you prefer a minimalist look, opt for solid colors or subtle patterns. For a bolder statement, go for vibrant patterns and textures.
4. Maintenance
Quilted bedspreads come in various designs, some of which may require special care. Check the care instructions before making a purchase. It's best to choose one that is easy to maintain and can withstand regular washing.
5. Quality Matters
Invest in a high-quality quilted bedspread that will stand the test of time. Quality bedspreads not only look better but also offer better comfort and durability. Check for stitching, thread count, and fabric quality when assessing the product's quality.
Malako India's Selection
Now that you have a better understanding of how to choose the perfect quilted bedspread, let's explore some fantastic options available at Malako.
If you're looking for ultimate luxury and sophistication, the Ethnic Quilted Bedspread is the perfect choice. Made from premium cotton, this bedspread offers unparalleled comfort and style. Its exquisite design and craftsmanship will transform your bedroom into a haven of elegance.
For those who prefer the softness and breathability of cotton, the Cotton Quilted Bedspread is an excellent option. Available in a variety of colors, this bedspread is not only comfortable but also easy to maintain, making it a practical choice.
If you want to add charm to your bedroom, the Floral Quilted Bedspread is a beautiful choice. Its timeless floral pattern and intricate quilting make it a standout piece that will enhance the aesthetics of any room.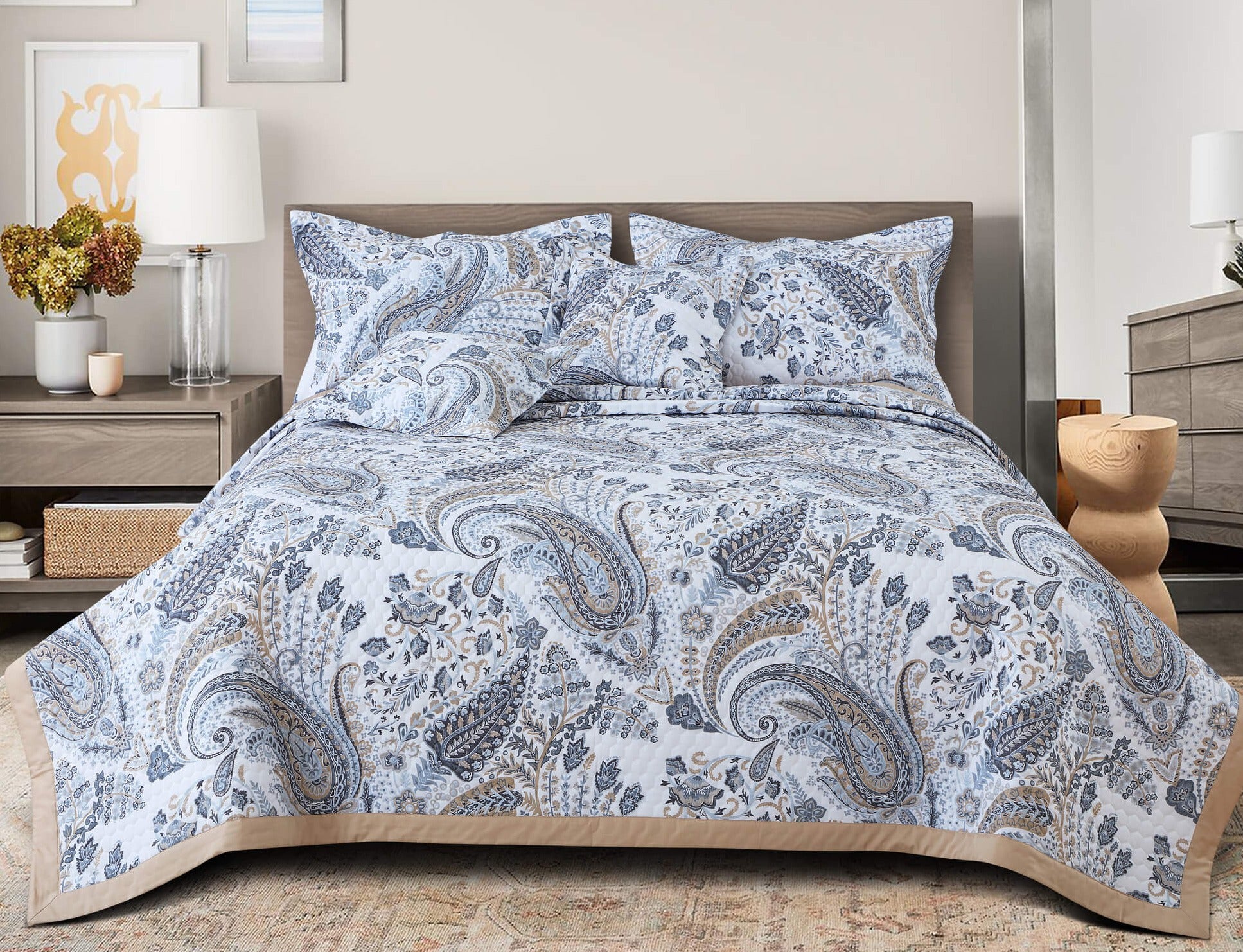 Elevate your bedroom decor with this beautiful Malako Royale white paisley quilted bedspread. Made from high-quality cotton, it's perfect for a super king-size bed. The exquisite Malako Royale bed covers keep in mind the evolving taste of the Indian audience.
Conclusion
Choosing the perfect quilted bedspread is an important decision when it comes to enhancing your bedding experience and the overall ambiance of your bedroom. Consider factors such as size, material, design, maintenance, and quality to make an informed choice. And, don't forget to explore the exquisite selection of quilted bedspreads offered by Malako India to find the one that suits your style and preferences best.
Invest in a high-quality bedspread, and you'll not only enjoy a better night's sleep but also add a touch of elegance and comfort to your sanctuary. Happy bedspread shopping!