Experience the Ultimate Winter Warmth with Malako Bamboo Winter 360 GSM Microfiber Quilts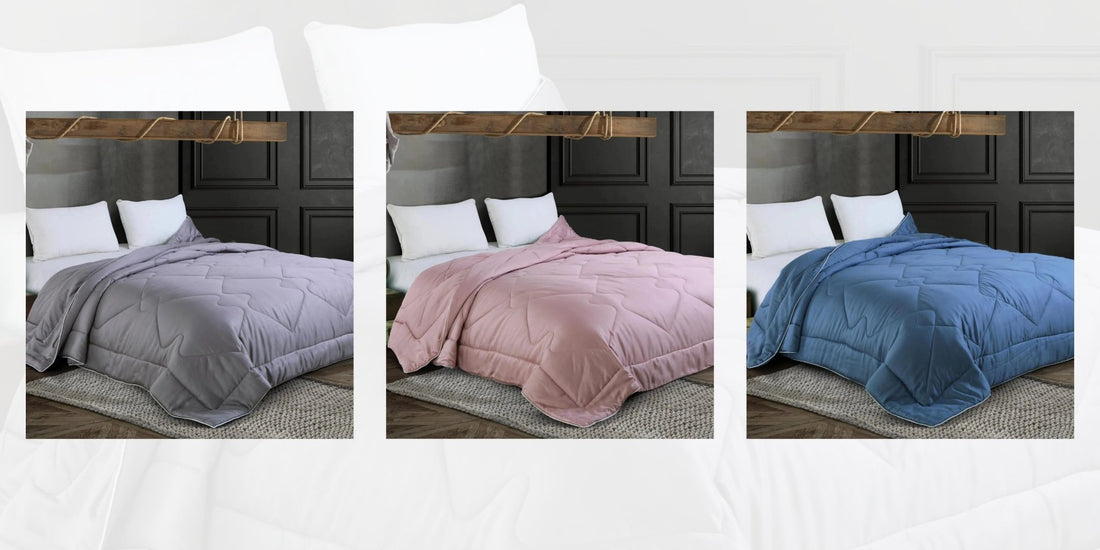 Winter nights are notorious for their chill, but with the Malako Bamboo Winter 360 GSM Microfiber Quilts, you can transform your sleep experience into a cocoon of warmth and comfort. These exceptional quilts, designed for the cold seasons, seamlessly combines the natural softness of bamboo with the insulating power of 360 grams per square meter microfiber fill.
The Perfect Blend: Bamboo and Microfiber
Bamboo fabric is renowned for its moisture-wicking properties, ensuring you stay dry and cozy throughout the night. Paired with the microfiber fill, you get an extra layer of warmth, making this quilt an essential addition to your winter bedding.
Double Bed Comforter Size and Material
With dimensions of 235cm x 275cm, this comforter is generously sized. Crafted from pure bamboo fiber, it ensures not only comfort but also a touch of nature in your sleep haven.
Single Bed Comforter Size and Material
Measuring 155cm x 230cm, this single bed comforter maintains the pure bamboo fiber material, promising the same level of warmth and comfort as its double bed counterpart.
Diverse Color Options
Malako understands that personal style matters. Choose from silver grey, sage green, rose pink, peach, maya blue, grey, blue, or beige to match your bedroom aesthetic seamlessly.
Features that Elevate Comfort
Lightweight and Breathable
The quilt's lightweight design allows for breathability, ensuring you stay comfortable without feeling weighed down.
Soft Gel Technology
Incorporating soft gel technology, Malako adds an extra layer of comfort to your sleep sanctuary.
Hypoallergenic Microfiber Filling
Perfect for those with allergies or sensitivities, the hypoallergenic microfiber filling guarantees a cozy night's sleep without any irritations.
Easy to Care and Machine Washable
Malako ensures convenience with easy maintenance. Simply toss the quilt in the machine for a quick refresh, maintaining its quality for long-lasting use.
Luxurious Benefits
Hotel-like Luxury at Home
Bring the opulence of a hotel stay into your home with Malako's Bamboo Winter Quilt.
Comfort and Warmth on Chilly Nights
Stay comfortably warm during extremely chilling winter nights, thanks to the quilt's insulating properties.
Ideal for Allergies or Sensitivities
The hypoallergenic filling caters to those with allergies or sensitivities, providing a worry-free sleep.
Full Coverage and Warmth
The generous size ensures full coverage, keeping you snug from head to toe.
Long-lasting Use with Easy Maintenance
Malako quilts are not only luxurious but also designed for longevity. Easy care and machine washability make them a practical choice for sustained comfort.
Why Malako Bamboo Winter 360 GSM Microfiber Quilt?
Choosing Malako means choosing unparalleled comfort, thoughtful design, and top-notch quality. The blend of bamboo and microfiber creates a quilt that transcends the ordinary, offering a sleep experience like no other.
Elevate Your Sleep Experience
Say goodbye to chilly nights and welcome a new era of warmth and comfort with Malako's Bamboo Winter 360 GSM Microfiber Quilt. Elevate your sleep experience with this exceptional quilt, meticulously designed for your utmost comfort.
In conclusion, the Malako Bamboo Winter 360 GSM Microfiber Quilt is not just a bedding accessory; it's a lifestyle upgrade. From its elegant design to its practical features, this quilt is a testament to Malako's commitment to providing you with the best in winter warmth.
Frequently Asked Questions (FAQs)
How do I choose the right size for my bed?
Select the size that corresponds to your bed—double bed for larger beds and single bed for smaller ones. Check the dimensions for accuracy.
Are the color options true to what I see online?
Malako strives for color accuracy, but slight variations may occur due to screen settings. Rest assured; the quilt will add a touch of sophistication to your space.
Is the quilt suitable for sensitive skin?
Yes, the hypoallergenic microfiber filling makes it an excellent choice for individuals with sensitive skin or allergies.
Can I use the quilt in warmer seasons?
While designed for winter, the quilt's lightweight and breathable features make it suitable for cooler nights throughout the year.
What makes Malako quilts stand out from others?
Malako quilts stand out due to their perfect blend of bamboo and microfiber, providing exceptional softness, warmth, and durability.